01603 721590
Page Generated:
7 Jun, 2020 07:48:46
6 Seater Dining Set 304 - Textilene Recliners, Rectangular Table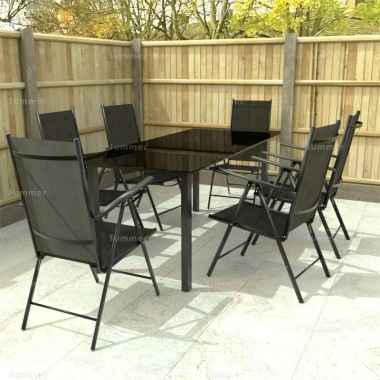 Summary:
This great value dining set includes durable materials which require virtually no maintenance. The six multi position reclining armchairs feature comfortable black textilene, a strong fabric which is durable and almost maintenance free. No cushions are required. The contemporary rectangular table features box section framing and a 5mm thick black tinted toughened safety glass table top which is scratch resistant and easy to clean. All framing is durable steel with a hard wearing silver grey powder coated finish. The chairs are supplied fully assembled and ready for use. The table is fitted with just 8 bolts and 8 screws. Instructions and fixings are included.
Prices fixed until Wednesday 10th June.
COVID-19: Please allow 2-4 days extra for delivery.
The prices INCLUDE NEXT DAY DELIVERY in mainland England, Wales and southern Scotland. Elsewhere delivery is 2-3 days at extra cost. You can choose delivery on any weekday. All fixings and instructions are included.
| Option | Price |
| --- | --- |
| With Rectangular Table and 6 Reclining Armchairs | £259 |
Specifications
6 multi position reclining armchairs
High back chairs
Moulded armrests
Comfortable and durable textilene chair seats and backs
Strong black textilene fabric (520 grammes per square metre)
Manual reclining chairs with a simple and reliable mechanical operation
Dual use adjustable chairs can be used for dining or lounging
No cushions required
Silver grey powder coated finish
Matching silver grey finish chair and table frames
Contemporary rectangular table with clean lines
Plain and functional table design
Black tinted toughened glass table top, scratch resistant and stronger than normal glass
5mm toughened safety glass
Table features box section steel framing and uprights
Table design features 4 U-shaped support frames, one on each side, with welded corners for strength
Table support frames feature doubled framing uprights bolted together at each corner to provide greater strength and rigidity
Chairs easily folded flat for compact storage
Can be left outside in all weather
Chairs supplied fully assembled with no on site installation required
Simple table assembly with only 8 bolts and 8 screws required
Armchairs 3'8" high (1070mm)
Armchairs 1'10" wide (550mm)
Armchairs 2'4" deep (700mm)
Table 2'4" high (720mm)
Table 4'10" wide (1470mm)
Table 2'10" deep (870mm)
TEXTILENE FABRIC: Textilene is is the ideal material for chair backs, seats and sunloungers. It is a strong and flexible material which requires virtually no maintenance, except for occasional cleaning with soapy water. Textilene is a tough synthetic fabric made of PVC coated polyester which is capable of withstanding UV fading, mildew and the most severe weather conditions. The textilene fabric is firmly clamped in place on two opposite sides within a continuous groove in the framing.
POWDER COATED STEEL: Tubular steel is cut to size and bent or welded as required to form a lightweight and strong frame. The steel is bent using jigs for greater precision. The steel frames are powder coated, a tough paint finish with good weathering properties. The dry electrostatic powder coating process ensures even coverage. The paint powder is electrically charged so it adheres to the steel frames. This process ensures a uniform coating which is baked onto the steel in an oven. A good example of powder coated steel is the finish on your washing machine and other domestic appliances. Powder coated steel furniture has a similar finish.
Options
Freestanding cantilever parasol with variable height and variable angle
Next day delivery or delay the delivery until you're ready - included in the price
Saturday delivery available at additional cost
AM delivery before noon available at additional cost
CANTILEVER PARASOLS: Cantilever parasols can be used with any furniture set, including lounge sets with just a coffee table and dining sets even if the table has no parasol hole. Cantilever parasols are freestanding, unlike other parasols which are supported by a table. With a cantilever design the parasol is normally suspended over a table or seating area with the upright support post to one side. The parasol can easily be moved from side to side. In addition, the height and the angle of the canopy are variable which provides greater controllability. All parasols benefit from a weighted base but a cantilever parasol requires a heavier weight as a counterweight. The stand can easily accommodate weights or it can be bolted down into decking or concrete. The criss-cross stand is designed with full length flanges to suit a variety of weights including concrete paving slabs. The weights or fixing bolts are not included.
PARASOLS: Parasols provide shade from direct sunlight and protection from harmful UV rays. Our parasols feature showerproof polyester fabric which is removable and machine washable at low temperatures. Your parasol should be stored in a dry environment during the winter to ensure that it remains in good condition. Parasols should also be stored safely during windy conditions.
Delivery
EXTRA COVID-19 CORONAVIRUS INFORMATION: This popular product is in stock now and we can deliver within a few days.
Our normal next day delivery may be a day or two slower at present due to unprecedented demand.

On the busiest days when our capacity is reached it is no longer possible to select that day for delivery. If so the next weekday is the earliest day available.

If you do not select a delivery day while ordering please email us with your requirements as soon as possible afterwards.

Please read on for full details of the delivery service for this product:
FREE NEXT DAY DELIVERY or delay the delivery until you are ready then YOU TELL US WHICH DAY TO DELIVER
We always have a large stock of this garden furniture available - so we can always despatch your order immediately.
Please provide at least one DAYTIME PHONE NUMBER where the driver can contact you on the day of delivery if needed.
If you cannot be at home to receive your garden furniture we can deliver when you are out - please contact us for options.
At most sites it is possible for the driver to deliver your garden furniture into the back garden unaided. Even if your garden furniture is too heavy for the driver to carry it far the lorries are equipped with trolleys for moving heavy items over hard surfaces such as concrete or tarmac.
TELL US WHICH DAY: You need to tell us when to deliver, whichever option you choose. We cannot deliver unless you tell us which day. You can select a delivery day when you order online or if you order by phone. Alternatively, you can order without specifying a day and request delivery later by phone or email.
NEXT DAY DELIVERY: Next day delivery is available throughout mainland England, Wales, southern Scotland and central Scotland. We deliver on the next working day if requested before 12 noon. For example, to request delivery on Monday just contact us before 12 noon on Friday.
DELAYED DELIVERY: You can request a delivery day weeks in advance or you can wait to choose a delivery day later. We can deliver on any weekday of your choice, just contact us before 12 noon the day before.
SCOTLAND: Delivery is normally next day to all mainland addresses in AB, DD, DG, EH, FK, G, KA, KY, ML, PA1-19, PA21-23, PA35-36, PH1-18 and TD postcodes. Delivery is 2-3 days to mainland and offshore addresses in all other postcodes.
OFFSHORE ISLANDS: Delivery is normally next day to the Isle of Wight. Delivery is within 2-3 days to the Scottish Islands, the Isle of Man and the Scilly Isles. Delivery to the Channel Islands is currently price on application.
NORTHERN IRELAND: Delivery is within 2-3 days throughout Northern Ireland. To see the correct prices please enter your BT postcode.
REPUBLIC OF IRELAND: Delivery is within 2-3 days throughout the Republic of Ireland. To see the correct prices please select Republic of Ireland as the country and enter the first part of your Eircode postal code e.g. A65. After that you can see all of the products available at the correct prices including delivery throughout the Republic of Ireland. To place an order just phone us 7 days a week on 01603 721590.
2-3 DAY DELIVERY: In some areas next day delivery is not possible. 2-3 day delivery is the only option in Northern Scotland, the Scottish Islands, Northern Ireland, the Republic of Ireland, the Isle of Man and the Scilly Isles. In these areas the AM before noon and Saturday delivery options are also not available.
AM DELIVERY - BEFORE NOON: This low cost option is available at any mainland address in England and Wales. The AM delivery option is also available in Scotland to mainland address in AB10-16, AB21-23, AB24-25, DD, DG, EH, FK1-18, G, KA, KY, ML, PA1-19, PH1-14 and all TD postcodes. The AM delivery service is not available in Northern Ireland, the Republic of Ireland or at any offshore address. If your delivery is outside the specified time the charge will be fully refunded.
SATURDAY DELIVERY: This low cost option is available at any mainland address in England or Wales. Saturday delivery is also available in Scotland to mainland address in AB10-16, AB21-23, AB24-25, DD, DG, EH, FK1-18, G, KA, KY, ML, PA1-19, PH1-14 and all TD postcodes. The Saturday delivery service is not available in Northern Ireland, the Republic of Ireland or at any offshore address. To request delivery on Saturday just contact us before 12 noon on Friday.
NO HIDDEN DELIVERY CHARGES: The price you see is the price you pay. Our garden furniture prices include all delivery charges - unlike most others we do not add delivery charges during the checkout process. However the prices may vary in different areas. You need to enter the first half of your postcode to see the correct prices in your local area. If you have not already done so click here to enter the FIRST HALF of your POSTCODE.
Ordering/Payment
All garden furniture prices include VAT.
ORDER BY PHONE: You can pay with a debit or credit card. To order phone us on 01603 721590 seven days a week.
ORDER ONLINE: You can pay with a debit or credit card. We also accept password protected online payments using Verified by VISA or Mastercard SecureCode.
METHODS OF PAYMENT: We accept most major credit cards and debit cards including VISA, MasterCard, VISA Delta, VISA Debit, MasterCard Debit, Electron, Solo, Switch, Maestro and UK Maestro. We also accept secure online payments using Verified by VISA or MasterCard SecureCode. We do not accept American Express or Diners Club cards at present.
SCHOOLS, COUNCILS AND BUSINESSES: We supply many schools, local councils and businesses both large and small. The prices and terms are the same so you can order online if you wish. If you want to pay by BACS transfer or company cheque you will need to order by phone.
Features and Accessories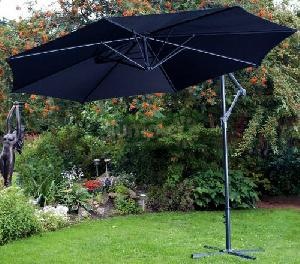 Parasol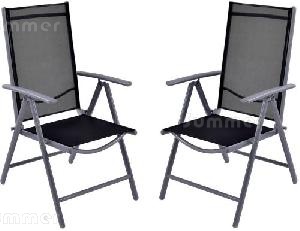 Additional chairs