01603 721590
Page Generated:
8 Aug, 2020 19:36:54
Fence Panel 312 - Straight Lap, Extra Framing, Pressure Treated
Summary:
This great value straight lap fencing panel is 6'x6' (1.83x1.83m). It features straight edged slats with vertical framing at narrow 18" centres (450mm) for extra strength and rigidity. All timber is pressure treated, a lifetime preservative treatment which ensures greater durability. The minimum order is three panels and you can add as many extra panels as you need. You can also add a wide range of accessories including posts, post supports, panel fixing clips and gates.
Prices fixed until Wednesday 12th August.
The prices INCLUDE DELIVERY. Unlike others we do not add delivery charges at the checkout. The minimum order is 3 panels. You can add as many extra panels as you like.
| Option | Price |
| --- | --- |
| 3 panels 6' wide x 6' high (1.83x1.83m) | £96 |
Specifications
All timber used in the construction of this fencing panel originates from sustainable forests
All timber is pressure treated (lifetime preservative treatment)
Sawn timber throughout
4" wide square edged slats
Doubled vertical framing at 18" centres (450mm)
PRESSURE TREATED TIMBER: Pressure treatment is a lifetime preservative treatment. The preservative is forced deep into the timber under pressure in a vacuum and penetrates below the surface. All other treatments apply a coat of stain to the surface of the timber only. With pressure impregnated timber, the chemicals are permanently bonded to the cell structure of the wood at a molecular level. Tanalith E is a widely used water based version so pressure treated wood is often described as tanalised. Pressure treated wood is almost colourless except for a slight green tint caused by the copper content in the preservative. No further preservative treatment is ever needed. However, if you want a coloured finish you can paint over pressure treated or tanalised wood with normal wood preservative in any colour.
Options
Add any number of individual extra panels, as few or as many as you need, subject to a minimum order of 5 panels
Pressure treated timber fence posts
A choice of fence post dimensions, either ex 3"x3" (75x75mm) or ex 4"x4" (100x100mm)
A choice of post supports to suit 3"x3" or 4"x4" posts, including drive-in spikes and bolt down brackets
Panel fixing clips
Matching single gate
Rapid setting pre-mixed concrete for fence posts - no mixing, just add water, sets in 10 minutes
PANEL FIXING CLIPS: Our zinc plated steel panel fixing brackets are designed to fix our fencing panels securely, neatly and discreetly. The L-shaped design means that if all clips are fitted facing the same way, they are only visible from one side. Our fence panels are heavier than normal fencing panels so our clips are stronger. We recommend fixing 5' and 6' high panels (1.5m and 1.8m) using 6 clips per panel, with 3 clips each side. We recommend fixing 3' and 4' high panels (0.9m and 1.2m) using 4 clips per panel, with 2 clips each side.
GALVANIZED STEEL POST SUPPORTS: We offer a choice of different steel post supports to simplify and improve the installation process. Setting posts in the ground in the traditional way requires the excavation of deep holes. Care is also required when backfilling the holes. You can use wet concrete, dry lean mix concrete or compacted rubble. Concrete should be finished below ground level and chamferred away from the post at the top. At the bottom the post must penetrate below the concrete for drainage purposes. A degree of skill and effort is required and there is always the worry that posts set in the ground are more likely to rot over time. Posts set in our steel post supports should be set above the ground with little or no direct contact with the ground. We offer 3 types of steel fence post supports:
DRIVE-IN SPIKES: Short offcuts of wood are placed in the sockets and the spikes are driven into the ground with a sledgehammer. The offcuts should be about 8" long (200mm). You can use offcuts from the fence posts or any similar wood offcuts. This method can be very quick and easy, especially in softer soils. However, it can be harder in heavy clay or stony ground. It is not always as precise as other methods because a large stone below ground may deflect the spike slightly out of line. Professional fence erectors do not often use drive-in spikes which were developed for the DIY market. This is our most popular type of post support.
BOLT DOWN POST SUPPORTS: Bolt down post supports can save you a lot of work if your fencing passes over an area of existing concrete. Instead of breaking up the concrete or cutting a hole through it you can simply bolt one or two of these post supports directly into the concrete. 2 fixings are required per post support, on opposite sides, so you just need to drill a couple of holes. Although much easier to use these post supports are not as strong as the other options we offer, so we do not recommend fixing long runs of fencing this way. There are 2 slightly different types offered. The box shape socket surrounds the post to provide the strongest fix if this is your preference. The U-shape socket can be fitted with the flanges barely visible if this is you prefer.
CONCRETE-IN STIRRUPS: These concrete in stirrups or H-brackets are the best method we know of for installing fence posts, combining the best of the traditional way with the best of modern engineering. Professional fence erectors should be happy with this method although it may take longer. The bottom half of the stirrups are set in concrete which requires holes to be excavated, but the holes are not as deep as traditional post holes. The combination of concrete and thick steel is immensely strong. The top of the stirrup should be above the concrete. For greater precision the posts can be concreted as the posts are fitted. Alternatively, the stirrups can be concreted in advance, which is quicker but precise positioning is required. The uppermost flanges can be fitted in 2 different ways. At the most exposed sites the flanges should be front and back for maximum strength. At less exposed sites the flanges will be barely visible if they are fitted from side to side.
RAPID SETTING PRE-MIXED CONCRETE: No mixing required, just add water. Sets in 10 minutes. Designed for fixing wooden or concrete fence posts quickly and easily. First excavate the post hole then fill it about one third full of water, then just pour the concrete mixture into the hole. Before pouring the post should be approximately in position. After pouring the position of the post can be adjusted as required before the concrete dries.
The concrete mixture includes sand, cement and additives. Supplied in tough weatherproof plastic bags, each bag contains a manageable 20 kilogrammes. A typical post hole requires 1.5 bags, based on a square hole 10"x10" (250x250mm) in area and 2' deep (600mm). This pre-mixed concrete has been formulated for domestic fence posts. It is not suitable for general concreting, screeding, mortar, render or if an engineer-specified strength is required. The minimum working temperature is 3 degrees centigrade.
Delivery
EXTRA COVID-19 CORONAVIRUS INFORMATION: This item is currently available within the estimated delivery times below, with no delays. Our delivery times are slower than normal due to unprecedented demand.
Delivery is normally around 1 week after order
Our fencing prices include all delivery charges - unlike others we do not add delivery charges during the checkout process.
Kerbside delivery with advance notice a day or two before.
You can delay the delivery until you are ready but please give us at least 3 days notice
ENGLAND, WALES & SCOTLAND: Delivery is available to any mainland address in England, Scotland and Wales.
OFFSHORE: Delivery is available to the Isle of Wight. Delivery is not available to the Isle of Man or any Scottish Islands. Delivery is not available to Northern Ireland or the Republic of Ireland.
Ordering/Payment
All fencing prices include VAT.
ORDER ONLINE: You can pay with a debit or credit card. We also accept password protected online payments using Verified by VISA or Mastercard SecureCode.
METHODS OF PAYMENT: We accept most major credit cards and debit cards including VISA, MasterCard, VISA Delta, VISA Debit, MasterCard Debit, Electron, Solo, Switch, Maestro and UK Maestro. We also accept secure online payments using Verified by VISA or MasterCard SecureCode. We do not accept American Express or Diners Club cards at present.
SCHOOLS, COUNCILS AND BUSINESSES: We supply many schools, local councils and businesses both large and small. The prices and terms are the same so you can order online if you wish. If you want to pay by BACS transfer or company cheque please email us.
Features and Accessories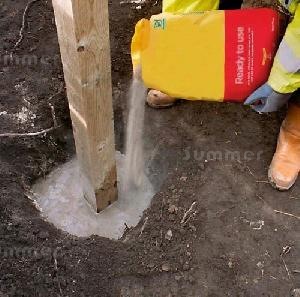 Rapid stting concrete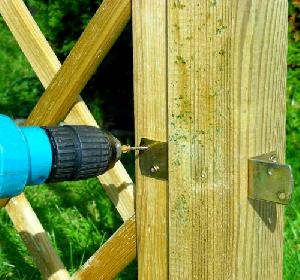 Panel clips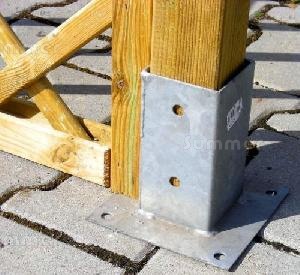 Post supports
Elevation drawing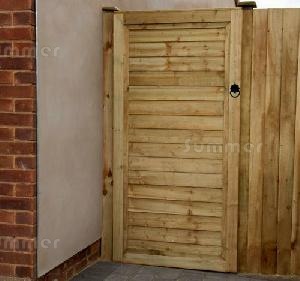 Single and double gates, pressure treated timber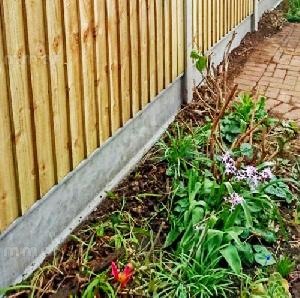 Fence posts, slotted concrete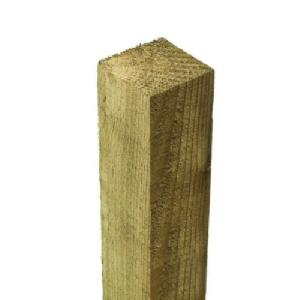 Fence posts, pressure treated timber