Delivery postcode is
RG22
Page Generated:
29 Jan, 2022 02:08:22
Repackaged Growhouse 383 - Polycarbonate, Silver Finish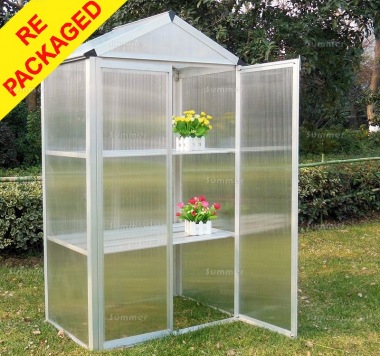 Summary:
This aluminium growhouse is 2'7"x1'8" (800mm x 500mm) with an overall height of 4'9" (1450mm). Standard features include two slatted shelves to provide extra growing space or storage. Other features include aluminium framing and double hinged doors for easy access. The glazing is twinwall polycarbonate, which is far stronger than the polythene covers supplied with other mini greenhouses. It is virtually unbreakable, provides good insulation from frost and diffuses light to prevent scorching. This aluminium mini greenhouse is an ideal space saving solution for small gardens. A sheltered site against a wall is an ideal position, with good light but preferably not exposed to prolonged fierce sunlight.
REPACKAGED PRODUCT: Our repackaged products are intact and fully usable. The price has been reduced because the product has been returned or the packaging has been damaged and it is no longer as new. All components are fully usable although there may be some imperfections or scratches. Our normal aftersales service is available for missing or faulty components.
The prices include courier delivery in mainland England, Wales and southern Scotland. Elsewhere delivery is 2-3 days at extra cost. You can choose delivery on any weekday. All glazing, fixings and instructions are included.
| Size | Repackaged, Silver Finish With Polycarbonate and Shelves |
| --- | --- |
| 2'7" x 1'8" | £149 |
Specifications
REPACKAGED PRODUCT: This product is similar to an ex display product. It should be complete and fully functional although the packaging may not be in new condition. All major components should be usable although there may be some blemishes, imperfections, scratches and signs of use. All major components should be present with no significant shortages unless listed although a few minor components such as screws, washers or cover caps may be missing. Our normal replacement parts service is available for faulty components as for new products.
Our repackaged products offer an opportunity to save money. Sometimes the packaging was damaged in our warehouse or in transit. Sometimes the product was returned or a customer ordered the wrong model. Some components may have minor damage and signs of wear. Whatever the reason, unless we can see that the product and packaging are in new condition we will not send it out as new. Instead we offer the product for sale as "repackaged".
Repackaged metal products may include more imperfections than a new product including a higher incidence of small dents and creases, scratches, chips and other blemishes. It may be possible to site components with visible blemishes in a less prominent position if there is more than one.
Twin wall polycarbonate glazing
Strong aluminium greenhouse frame
Clip free glazing system which holds the polycarbonate glazing in position more securely
Double hinged front doors
2 slatted shelves
Width 2'7" (800mm)
Depth 1'8" (500mm)
Eaves height 4'0" (1230mm)
Ridge height 4'9" (1450mm)
TWIN WALL POLYCARBONATE: Twin wall polycarbonate is virtually unbreakable and very practical. With small children or pets around polycarbonate greenhouses are safer. Polycarbonate is also safer to handle during installation. Polycarbonate greenhouses provide a similar growing environment to glass greenhouses with better insulation properties and reduced glare. Polycarbonate also provides good insulation from frost and maintains a more even temperature for better plant growth. Twin wall polycarbonate also diffuses light to prevent scorching. Twin wall polycarbonate glazing is stronger than the flimsy single skin polycarbonate sheeting supplied with some greenhouses.
Options
Next day delivery or delay the delivery until you're ready at the same price
Saturday delivery available at additional cost
AM delivery before noon available at additional cost
Delivery
DELIVERY UPDATE: Please allow a few days extra for delivery because the carrier networks are less reliable at present due to exceptionally high demand. As a result our normal next day delivery service may be a few days slower. If you do not select a delivery day while ordering please email us with your requirements as soon as possible afterwards. Please read on for full details of the delivery service for this product:
FREE NEXT DAY DELIVERY or delay the delivery until you are ready then YOU TELL US WHICH DAY TO DELIVER
We always have a large stock of this item available - so we can always despatch your order immediately.
Please provide at least one DAYTIME PHONE NUMBER where you can be contacted during the daytime if needed.
PERFORMANCE DATA: 98.97% delivered next day, 99.94% delivered within 72 hours, 2.70% reported damaged. We check the performance of our carriers regularly and publish the results. Although larger and heavier than the average size parcel, we consistently deliver these parcels on time with very little loss or damage.
TELL US WHICH DAY: If you want next day delivery you need to tell us when to deliver. We cannot deliver unless you tell us which day. You can select a delivery day when you order online or if you order by phone. Alternatively, you can order without specifying a day and request delivery later by phone or email.
NEXT DAY DELIVERY: Next day delivery is available throughout mainland England, Wales, southern Scotland and central Scotland. We deliver on the next working day if requested before 12 noon. For example, to request delivery on Monday just contact us before 12 noon on Friday.
DELAYED DELIVERY: You can request a delivery day weeks in advance or you can wait to choose a delivery day later. We can deliver on any weekday of your choice - just contact us before 12 noon the day before.
SCOTLAND: Delivery is normally next day to all mainland addresses in AB10-16, AB21-25, AB30-36, AB39, DD, DG, EH, FK1-18, G, KA1-26, KA29-30, KY, ML, PA1-19, PH1-14 and TD postcodes. The next day service is not available elsewhere in Scotland. To any other Scottish address delivery is normally within 3-5 working days after order. In areas where the 3-5 day delivery service operates it is not possible to choose a specific day for delivery.
IRELAND AND OFFSHORE ISLANDS: The next day service is not available in these areas. Delivery is normally within 3-5 working days after order. It is not possible to choose a specific day for delivery. The 3-5 day service is available to Northern Ireland, the Scottish Isles, the Isle of Wight, the Isle of Man and the Scilly Isles. We are currently unable to deliver to the Channel Islands or the Republic of Ireland.
NO HIDDEN DELIVERY CHARGES: The price you see is the price you pay. Our prices include all delivery charges - unlike most others we do not add delivery charges during the checkout process. However the prices may vary in different areas. You need to enter the first half of your postcode to see the correct prices in your local area. If you have not already done so click here to enter the first half of your postcode.
Ordering/Payment
All clearance product prices include VAT.
ORDER ONLINE: You can pay with a debit or credit card. We also accept password protected online payments using Verified by VISA or Mastercard SecureCode.
METHODS OF PAYMENT: We accept most major credit cards and debit cards including VISA, MasterCard, VISA Delta, VISA Debit, MasterCard Debit, Electron, Solo, Switch, Maestro and UK Maestro. We also accept secure online payments using Verified by VISA or MasterCard SecureCode. We do not accept American Express or Diners Club cards at present.
SCHOOLS, COUNCILS AND BUSINESSES: We supply many schools, local councils and businesses both large and small. The prices and terms are the same so you can order online if you wish. If you want to pay by BACS transfer or company cheque please email us.
Features and Accessories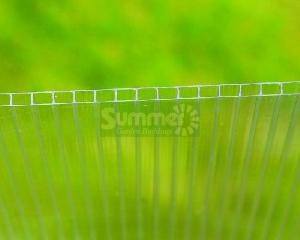 Twin wall polycarbonate glazing included free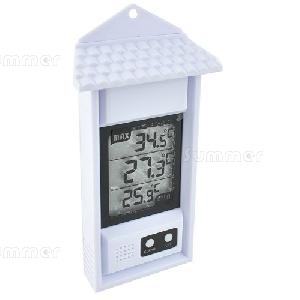 Thermometers and soil gauges