Not your postcode?
Setting the first half of your postcode shows you the full choice in your area.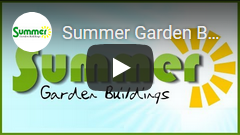 Aluminium Lean To Gazebo 372 - Adjustable Height, Polycarbonate Roof
Summary:
This low maintenance lean to aluminium gazebo is available in two sizes, approximately 8'x12' or 10'x16' (2.5x3.7m or 3x5m). Standard features include a strong and durable powder coated aluminium frame with a bronze tinted twinwall polycarbonate roof canopy. The larger 10'x16' gazebo includes 3 posts. The smaller 8'x12' includes 2 posts. Base plates with pre-drilled holes are included to ensure easy fixing into any hard surface. The adjustable design allows the ridge to be raised or lowered. In addition, the eaves height and the exact position of the support posts can also be varied. Polycarbonate is increasingly popular as a gazebo roof due to the combination of durability, good light transmission and reduced glare. It is stronger than a canvas canopy and provides good protection for garden furniture. This versatile gazebo is also suitable as a hot tub cover or a smoking shelter. Instructions are supplied for DIY self assembly.
Prices fixed until Wednesday 25th September.
Back to the Top
Powder coated aluminium frame
Virtually no maintenance required
Extruded hollow section box profile profile framing throughout with concealed full length stiffeners to provide extra strength and rigidity
Extruded 80mm x 40mm box profile aluminium posts with rounded corners
Extruded 80mm x 40mm box profile aluminium eaves beam with rounded corners
Extruded 60mm x 40mm box profile aluminium glazing bars
Extruded 150mm x 50mm structural aluminium ridge beam
Extruded 90mm wide structural aluminium gutter
2 or 3 aluminium posts included (varies according to size)
Aluminium posts 6'7" long (2000mm)
Bronze tinted 6mm thick twinwall polycarbonate roof
Glazing bars at approximately 24" centres (610mm)
2 moulded gutter stop end outlets included, with downpipe connectors suitable for rigid pipes or flexible hoses
Moulded glazing bar end plates included
2 triangular eaves braces per post to ensure stability
Pre-drilled base plates ensure easy fixing into any hard surface including concrete, paving or decking
All components required for assembly are supplied cut to length and pre-drilled
Ridge and eaves components are too long to be supplied in one piece so two lengths are supplied with offset joins required to preserve structural integrity
Adjustable ridge height - the roof pitch is variable from 10 degrees to 16 degrees, so the ridge height is also variable
Adjustable eaves height - the eaves height can be reduced by cutting the posts, which reduces the ridge height by the same amount
Adjustable post positions - the posts can be moved away from the corners if required to avoid an obstruction
Adjustable eaves beam position - the main eaves support beam can be set back from the front if required to avoid an obstruction
8'4" x 12'4" gazebo (2.55m x 3.75m)
External roof width 12'4" (3750mm)
External roof projection 8'4" (2550mm)
Minimum external ridge height 7'9" (2350mm)
Maximum external ridge height 9'0" (2750mm)
External eaves height 7'0" (2140mm)
Internal eaves height 6'7" (2000mm)
2 aluminium posts included
10' x 16'3" gazebo (3.05m x 4.96m)
External roof width 16'3" (4960mm)
External roof projection 10'0" (3050mm)
Minimum external ridge height 7'11" (2400mm)
Maximum external ridge height 9'4" (2850mm)
External eaves height 7'0" (2140mm)
Internal eaves height 6'7" (2000mm)
3 aluminium posts included
POWDER COATED ALUMINIUM: Extruded hollow section aluminium profiles are cut to size and drilled or welded to form a lightweight and strong frame. Aluminium is ideal for outside use because it does not corrode like steel. The aluminium is powder coated, a tough paint finish which has excellent weathering properties.
TWIN WALL POLYCARBONATE: Twin wall polycarbonate is virtually unbreakable and very practical. Polycarbonate is safe with small children or pets around and easy to handle during installation. Tinted polycarbonate reduces glare by diffusing light in the same way as sunglasses.
LEAN TO GAZEBOS: In essence a lean to gazebo is just a large roof canopy with open sides so it provides a shady seating area immediately outside the house plus a great storage area for things which need to be kept dry. A lean to gazebo is similar to a conservatory but one step closer to the garden. Increasingly lean to gazebos are used as an inexpensive and handy general storage area for a multitude of other things including barbecues, garden furniture, cushions, wellies and a host of other sundries. With open sides the access is convenient but a gazebo is not as secure as a shed or garage. You should consider security before deciding which items to store in your gazebo.
SEALING A LEAN TO GAZEBO AGAINST THE WALL: Although it is not essential, for best results a lean to gazebo should be sealed against the host wall. There are various ways of doing this depending on the wall surface. The easiest way is a simple silicone seal but this will require the most maintenance. Adhesive flashing is a more permanent solution but it will also require occasional maintenance. The best seal is lead flashing dressed into the existing mortar, which requires little or no maintenance. However, it is the most expensive option and normally requires a plumber. With no seal at all, a lean to gazebo still provides a waterproof canopy and although the walls may be damp on occasion this may not be a problem. Lean to gazebos are normally supplied with no flashing or sealant included due to the various different options available to suit different sites and individual requirements.
Back to the Top